John Miller
A Very Special Children's Book Author

Ella's Way Publishes "Adventures in Handom"


We are excited to introduce John Miller, a 17 year old student studying graphic communications at the Greater Lawrence Technical School in Andover, MA. He loves to read, play video games, watch movies, spend time with friends and is an expert in trivia, particularly about Presidents Lincoln and Kennedy. He has trained for 3 years in Taekwondo, recently receiving his black belt.

What makes this Spotlight different? John happens to be on the Autism Spectrum. Diagnosed at 5 years old, John exhibited obsessive compulsive disorder behaviors, repetitive speaking and a common tic associated with autism, known as hand flapping. John would play with his hands and act out stories and movies. Life quickly changed for his family, but their memories include watching John participate and win gold medals in Special Olympics Track & Field and Gymnastics. John was soon interviewed by a local television show and his accomplishments were chronicled in a local newspaper.

---

As John grew older, he never forgot the stories he created with his hands. We are excited to work with John and publish "Adventures in Handom," his first science fiction children's book which is based on his original hand stories.

John's mother has lovingly referred to her son as a "reluctant advocate" for autism. The truth is that John has been inspiring both children and adults for years with his gentle spirit, his well earned accomplishments, his fearless attitude and by never giving up. Many thanks to the Miller family for sharing their wonderful son with us!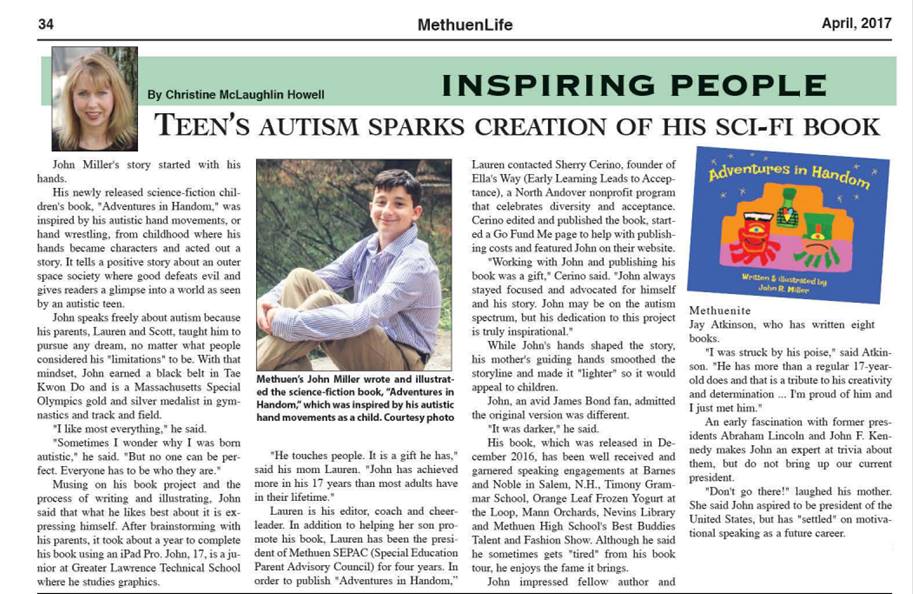 ---


Previous Spotlights

Nora
Beautiful Inside & Out


Meet Nora, a very special friend of ours, who was born with a port wine stain birthmark on her cheek. Nora's family shared:

From an early age, we tried to teach her confidence in herself and acceptance of differences in others because in reality, we ALL have differences. It's what makes us unique. It's what makes us beautiful.Over the years, we have had curious questions, rude remarks, and insulting comments about her birthmark. In each case we tried to model the reaction we would want her to have as she got older; "It's just a birthmark." Around the age of 3, she would answer for herself, "It's just a birthmark."

At the same time, Nora has had both friends and strangers say, "I love your birthmark, I think it is beautiful."

Nora has grown into a beautiful, intelligent, and confident young woman. When asked how she would react to bullying, she responds, "If someone makes fun of me, that's their problem. I have a birthmark on my face, so what?" To Nora, her birthmark is just a small part of who she is and does not define her. Many thanks to Nora and her family for sharing their story. She is beautiful inside and out!

---

Nancy Cote, Illustrator


Ella's Way is proud to spotlight Nancy Cote, the nationally acclaimed children's book illustrator and author, as the creative and artistic genius behind "Ella & the All-Stars" and "Davey's Big Race." Nancy's talent, commitment and enthusiasm not only brought our characters to life, but also gave them depth and personality through her amazing illustrations.

Nancy Cote has illustrated over thirty picture books and has written five of her own. Her stories, illustrations, paintings and poems have been featured in many exhibits, collections and children's magazines throughout the United States. She is currently earning national recognition with her newest work with Ariella Books of Berlin, Germany.

Nancy was recently represented at the University of Southern California Book Festival having illustrated the first three books of the Read Conmigo Award winning series of bilingual books.
Some of Nancy's Achievements Include:
The Oppenheim Toy Portfolio Gold Seal Award

Society of School Librarians International Honor book

American Booksellers Association "Pick of the List"

Smithsonian Notable Book for Children

Florida Reading Association Children's Book Award

CBC-IRA Notable Children's Trade Book

Sidney Taylor Notable Book Award

PJ Library books

Parenting Magazine Best Book

Listed by Bank Street College of Education as one of the best Children's Books 2009

Featured in the Society of Illustrators

"Original Art" Show in NYC

Taught Children's Book Illustration in the C.E. Program at Rhode Island School of Design

Highlights for Children Pewter Plate Award
---
News and Events


---

Ella's Way Kindness All-Stars!



Little Girl Surprises Her Favorite Garbage Man With
Birthday Cupcake

Garbage men are used to collecting stuff; it's what they do. But one garbage man in Bloomington, Illinois, recently collected something totally unexpected: a birthday cupcake from his biggest fan, 3-year-old Brooklyn Andracke.

"Every Thursday, my heart is full when I see the joy that our amazing garbage man brings Brooklyn when he honks and waves at her with a BIG smile," said Brooklyn's mom. "Today, Brooklyn and I wrapped up one of her birthday cupcakes and waited for him. When he came down our street, she ran to the corner. He pulled over, got out and gave us his BIG smile. Brooklyn was speechless as she handed him the cupcake. I explained to him that Brooklyn is his biggest fan. She waits for him every Thursday!"

The next week, Delvar had his own surprise for Brooklyn! "He pulled out the most amazing, awesome and generous birthday gifts for her." Brooklyn's mom writes, "His kindness towards her has touched my heart in a way I can't describe. Thursdays ROCK! Thank you, Delvar!"

One Little Cupcake But 2 Big All-Stars!

---

Students Learn Compassion From Grandma In
The Window

Love is what makes the wheels on this school bus go round and round. Everyday, Arlington #7 drives past Louise's little house and everyday, 93-year-old Louise is there at the window to wave to the students. This little ritual played out for 5 years and Louise has become a bit of a legend. The students began calling her "the grandma in the window," and everyone on the bus looked forward to returning the friendly wave.

But one morning, the students raised their arms to wave, and concern swept the bus as they made a startling discovery. Louise was not at the window. The students were so worried that their kind bus driver, Carol, set out to uncover the reason for Louise's absence. When she learned that Louise had suffered a stroke and was in the hospital, everyone was heartbroken. Carol delivered a bouquet of flowers to the hospital on behalf of the students.

Because Louise would be at the hospital for a while, the students wanted to do something special to let her know just how much she meant to them. They had a panorama photograph taken of the bus, with everyone waving out of the windows. Carol delivered it to Louise at the hospital, but the stroke made it difficult for Louise to speak. However, Louise was so moved, she managed to say, "I miss them, too. I'm trying to get better."

Louise is expected to return home soon and when she does, she promises to return to the window to carry on the waving ritual that has come to mean so much.

It just goes to show that the gestures we often see as small can have a huge impact on those around us. A simple kindness can go a long way.


Arlington #7, A Busload of All-Stars!

---

Celebrity Stylist Pays It Forward With Haircuts For The Homeless

David Terry is 50 years old, H.I.V. positive and homeless. He spends his nights at Bailey House in Harlem and his days wandering the streets. "I get very depressed because it's like I'm on the treadmill going 80 miles an hour with the brakes on," he said.

But for one hour his life slowed down to a happy pace. Sitting on a park bench on the corner of East Houston and Chrystie Streets, Mr. Terry was getting a haircut from Mark Bustos, a professional stylist with a celebrity clientele.

"Can you believe this is happening?" Mr. Terry said, a white bib wrapped around his neck. An hour later, he looked in the mirror, and saw that his messy mop was now a stylish flattop. "Yeah, baby, I've still got it," he said, striking a victory pose. "I'm the king of the world."

Every Sunday, Mark Bustos, 30, a hairstylist at Three Squares Studios, an elite salon in Chelsea that charges $150 to many celebrity clients hits the sidewalk and provides free cuts to the homeless.

Mr. Bustos often wanders around Union Square, the Lower East Side and Midtown, where he has gotten to know some of the homeless by name. Other times, Mr. Bustos meets his unsuspecting new clients through friends and paying clients, who tell him about people in their neighborhoods. He does up to 10 haircuts a day.

He started offering haircuts to the homeless two years ago. The idea, he says, is to simply give back. "Whether I'm giving one at work or on the street, I think we can all relate to the haircut and how it makes us feel," Mr. Bustos said. "We all know what it feels like to get a good haircut."

A 2012 trip to the Philippines to visit family made him realize he could do more. He was struck by the number of impoverished children and decided to rent a barbershop as his way of helping. "It made me feel so good," Mr. Bustos said. "It was right to bring it home to New York."
Mr. Bustos tells a story of a homeless man who once looked in the mirror after a haircut, saw his fresh look and said: "Do you know anyone who is hiring. I'm ready to go get a job." Mr. Bustos hasn't seen him on the street since, something he considers a good sign.

His haircuts are always conducted on the street. If a park bench is not available, Mr. Bustos will find a milk crate or turn over a shopping cart. Rain or freezing temperatures do not deter him. (Since many homeless do not have regular access to washrooms, Mr. Bustos wears gloves, carefully disposes of hair clippings and disinfects his tools between every cut, just as he does with his equipment at work.)

"I do it on the streets, on the sidewalks, in the parks," he said, "so people who walk by can find some inspiration in what I do. "Just because they live on the street looking a little scruffy with their hair long doesn't mean they can't clean up and look great," he added.

---

Mark is Definitely A Cut Above the Rest!

---

A Heartfelt Homecoming: Plano Senior Takes Special-Needs Sophomore To Dance

When Hannah Robins saw Jared Silvas enter the classroom on the first day of school, she knew she had to talk to him.

Confined to a wheelchair, Jared, a sophomore at Hebron High School, seemed largely ignored and Hannah, a senior, made it her goal to get to know him. "I instantly knew I had to introduce myself. I was the only one to talk with him. Now everybody talks to him."

Bullied when she was younger, Hannah, of Plano, said she knows what it's like to not fit in and be judged by other people for being different.

While Jared may be physically underdeveloped, he's not cognitively affected, and Hannah said she's enjoyed spending time with him."He's very sarcastic, and I think it's great," she said. "He's really funny."

A few weeks after they met, Hannah devised a plan to ask Jared to homecoming. She found out Jared loves the Dallas Cowboys, She bought a football and decorated it with blue, black and silver sequins and fabric. In the center, she attached a star embellished with the words, "Let's tackle Homecoming together."

She told their teacher her plan and waited for Jared to arrive before popping the question. He immediately accepted her proposal."Everybody in the class cheered him on and were taking pictures," she said. "The whole class kind of came together.

Hannah's mother, Janell, said her daughter has always held a special place in her heart for those considered different. The 17-year-old has participated in every club that has given her the opportunity to interact with special-needs students, and she plans to turn that compassion into a career.

Janell said Hannah hadn't planned on attending homecoming until she met Jared. The dance wasn't even the highlight for the senior; her most cherished moment was when she met Jared at dinner.

"He had the biggest smile on his face and he seemed like he was just so excited to be there. I've never seen him so happy," she said. "That just absolutely made my heart melt. I couldn't have had a better night. We didn't even have to go to a dance; as long as he was happy, I was."

Homecoming wasn't about her. It was about Jared.


---

Hannah, You're Definitely An All-Star!

---

Suited Band Of Brothers Stands Up For Unstoppable
6-Year-Old "Danny"

BRIDGEWATER, Mass. —When Danny Keefe was born, his parents were told he would be severely handicapped both physically and mentally due to a serious brain hemorrhage. But the dapper little boy with the infectious smile and indomitable spirit defied those predictions. Danny speaks with difficulty due to childhood apraxia of speech (CAS) and he wears a suit and tie every day by his own choosing.

Danny, the official water coach for the Bridgewater Badgers Div. 5 Peewees, cuts quite a figure on the sidelines with his suit and fedora. And he's forged an unbreakable bond with the boys on the team, his parents said. Danny's mother said Danny has regularly been teased at the playground and elsewhere. Kids have pulled his hat down and called him demeaning names.

So, when the quarterback, Tommy Cooney, heard Danny was getting picked on because of the way he speaks, he took it upon himself to do something about it. The 11- year old decided to wear a suit to school just like Danny in a show of support for his young friend.

"He's such a good person. He doesn't let it bother him. He goes on with his day. He's a 6-year-old kid. We should all respect that," said Tommy. Many of the boys became emotional as they spoke about Danny getting picked on

Tommy told his fellow Badgers about "Danny Appreciation Day" and they all thought it was a great idea. On Nov. 20, more than 40 students crowded around the little boy with the winning personality cheering "Danny, Danny."

"This is the best day ever," Danny said, beaming.

"He feels so loved and protected," Danny's mother, Jennifer Keefe, said. When Danny used to come home crying after being teased, his mother would hope his last thought at night wasn't about being picked on. "With this act of kindness, I hope he thinks of that as he goes to sleep," she said.

The following students suited up for "Danny Appreciation Day": Tommy Cooney, Matt Keefe, Tim Keefe, Emily Keefe, Jimmy Peterson, Nicholas Lambert, Brett Jackson, Nick Hogg, Devin O'Leary, Thatcher Abbassi, Larry Kirlis, Chris DeSantis, Brett Rosher, Brian Rosher, Matt Giurleo, Jacob Spear, Max Compton, Vinny Forziati, Cade Chiocca, Liam Woods, Jason Revil, Brendan Rosher, Joseph Jones IV, Kyle Phillips, Riley Welch, Riley Manning, Nick Longo, Connor Chiocca, Aidan Brien, Jack Morgan, Jake Prisco, Ryan MacDermott, Jacob Lawson, Raul Sanjay, Bobby Ladue, Zack Whiting, Danny Doherty, Cameron Hogg, Andrew Johnson, Chris Hogg, Nick Brown, David Usher, Ben Hogg and Josh Hogg.

---

Congratulations Boys, You Are A Band of All-Stars!

A Simple Act Of Kindness Goes Viral

The simple act of kindness featured in the photo serves to remind us of a collective good still existing in the world. Randomly posted on Facebook, it quickly went viral with this caption:

"The young guy sitting down was struggling with his tie. The woman in the red coat noticed and asked, 'Do you know how to tie it properly?' The young guy said, 'No ma'am.' She tapped her husband and said, 'Come here and teach this young man how to tie his tie.' The older gentleman moved without hesitation [almost a reflex response] and gave him a step-by-step tutorial; then afterward the elder gentleman watched the young gentleman repeat the steps and show him that he had it. I was some distance away (but close enough to hear the exchange), and got even closer to snap this candid photo of the tutorial in progress before hopping on the train. I LOVE THIS!"

If we all helped each other like this, the world would be a much better place.


---

Anonymous Kindness With An All-Star Lesson!

---

APD Officer Helps Parent Be At Child's Surgery

ALBUQUERQUE, N.M. —On Thursday afternoon, a concerned citizen called police to report a couple with a baby, pan-handling at a bus stop at Lomas and San Mateo boulevards.

It was 35 degrees outside. Officer Luis Hernandez responded. "The caller was concerned that the baby was out in the cold weather," he told Action 7 News Friday.

The baby was a 2 1/2-year-old girl, bundled in blankets, and looking up at Hernandez with her big blue eyes.

"The first thing I thought when I saw her was from 'The Simpsons'," he said. "You know, she looked like a little star all bundled up."

Hernandez said the family's story tugged at his heart-strings. "They were pan-handling to get enough money for one of the parents to also follow the rest of the family to the hospital in Denver," Hernandez said.

Hernandez told Action 7 News the little girl has already had heart surgery, and her follow-up surgery appointment is in Denver soon. The couple has enough money for the girl and mother to go, but needed funds for their father to travel.

Police said with the medical expenses, the couple are struggling to make ends meet, and they did have jobs.
All they needed was a bus ticket. So Officer Hernandez bought them one.

"I have a child that was recently diagnosed with epilepsy," he said. "I know how hard it can be when you have to deal with medications and additional care, and it puts a burden on the family and that's the spot that they were in."

Hernandez also said his fellow officers helped him out during his own crisis, and he saw this as a chance to give back. The couple said Officer Hernandez went "above and beyond not only as an officer, but as a human being."

---

Officer Hernandez, We Salute You!

---

Teen Saves Elderly Neighbor

QUINCY, Massachusetts (WDHD) -- A teenager from Quincy was credited with saving an elderly woman during the height of this weekend's blizzard.
Dylan Hughes checked up on his 103-year-old neighbor Tuesday after she returned home from the hospital.
The first time Hughes, 16, went to check on Sylvia Carlson was Saturday morning after the neighborhood's power went out. When he got to her house, she was shivering and not looking well.

Hughes told his father, who then had to find a working phone since their phone line was down. Finally, after a neighbor called 911, an ambulance arrived only to get stuck trying to get through the snow.

Hughes and his father jumped into action, shoveling frantically so EMT's could get to the woman.
Hughes said he's known Carlson his entire life and just wanted to make sure she was okay.

"I was relieved that we got it done and I wanted to just lie down and let myself rest because I was really tired. I was relieved that she was going to be okay too," said Hughes.

---

Dylan Hughes, A True All-Star!

---

Massachusetts Girl Raises Money To Send Sandy Hook Teacher On Disney Vacation.

A Massachusetts girl declined birthday gifts in order to raise money for a teacher who risked her life during the mass shooting last year at Sandy Hook Elementary School in Newtown, CT.

Natalie Barros, 10, of Tyngsborough, Mass., decided she wanted to help teacher Kaitlin Roig after hearing Roig barricaded her first-grade students in a bathroom after gunman Adam Lanza opened fire inside the Connecticut elementary school.

"I set out to have Kaitlin have a smile on her face again," said Barros. "I really wanted that to happen."

Barros collected donations at her birthday in hopes of sending Roig and her fiance to Disney World. Roig learned of Barros' efforts, and the two met over ice cream last week.

---

We Need More All-Stars Like Natalie!

---

Jon & Maddie's Prom

This is my son Jon with his prom date Maddie. He is a junior and he has autism. About a month ago, Maddie, a senior, came to my office (I'm a teacher at their school) and asked if Jon's mom and I would allow her to take him to prom. Maddie had gotten to know Jon through a school club that promotes friendships between special needs kids and regular kids. "He's a junior," she explained "so it's his prom too. I just think he should have the chance to go." I told her we would be honored to have him go with her.

During the next couple weeks, she asked what his favorite color was (orange) so she could get a dress in that color. She also made reservations for their group (they doubled with another couple) at a restaurant that served his favorite food – chicken fingers and French fries.

I encourage everyone to like and share this (on facebook) for three reasons:
1. To show support for special kids like Jon
2. To show support for groups that promote these friendships
3. To remind us all, in a time when we hear about all the terrible things going on, that there are wonderful kids like Maddie working to make other's lives better.

Submitted by Mike Larson (Jon's Father)

---

Jon & Maddie, An All-Star Friendship!

---

One Girl, 89 Random Acts Of Kindness: Teenager's Amazing Homage To Late Great-Grandmother

An Ohio teen, grieving over the February death of her 89-year-old great-grandmother, has begun an incredible quest in her memory: to perform 89 random acts of kindness for total strangers over the next 18 months. "Some of her last words were, 'I don't want anybody to be upset.' And I was really upset for a few days," said Samantha Manns, 18 of Chillocothe, Ohio. "Then I thought, maybe I can't be happy right now, but I can do things to make other people happy."

She launched her plan back in February at a McDonald's drive-thru, where she paid the $5 bill of the customer behind her. It was simple, really, and made a total stranger's day. The customer cried tears of joy. "I saw it in my rear-view mirror," said Manns. "It made me feel pretty good."

She repeated that deed a few days later, which immediately started a chain of several other customers paying for the folks behind them. Other random acts: donating items to the Humane Society, hanging out with orphaned puppies, and baking a birthday cake for a friend. She's also been inspiring others to follow her lead on her Facebook page by offering packets with good-deed suggestions, plus a photo and bio of Manns' late great-grandmother, Virginia Booth, whom she called "Jinjey."

"Next up is whatever comes my way," she said, adding that she thinks Booth would have been proud. "She would've wanted me to remember her in a good, kind way, surrounded by love and happiness."

---

Samantha is All-Star Great-Granddaughter!


---

Parent's Act of Kindness Goes Viral; Lattes Bought For Others World-Round

On Sept. 3, Alyssa O'Neill, 18, texted her mom to ask if they could go to Starbucks so that she could try her first pumpkin spice latte. Her mom "agreed wholeheartedly.

"Unfortunately, my daughter passed away and we never got a chance to do that for her," Alyssa's dad, Jason O'Neill, told ABCNews.com. Alyssa died of an epileptic seizure.

"After the viewing and the funeral, we spent a few days being extremely sad and hiding from everybody, but we realized that wasn't really helping," he said. So the family, which includes Alyssa's two younger sisters and brother, headed to an Erie, Penn., Starbucks to fulfill her last wish.

"She really wanted a pumpkin spice latte," her dad remembered thinking. "I know we can't get her one, but we'll each get one and then we'll pay it forward and let some other people enjoy what Alyssa didn't get a chance to have. And maybe they'll spread the kindness and do a nice thing in honor of our daughter."

The family bought 40 pumpkin spice lattes for the next 40 customers and asked that a purple sharpie be used to write #AJO (Alyssa's middle name was Josephine) on each cup. The Starbucks managers were touched by the family's story and ended up donating 50 more free drinks to their effort. Pretty soon, acts of goodwill with the #AJO hashtag were pouring in for the family on Facebook, Twitter and Instagram from all over the world.

"It's kind of turned into a phenomena in Erie and now it's just spread all over the country and it's not about coffee," O'Neill said. "There's people paying off layaways, there's people buying meals, people filling all of the parking meters at local hospitals so people have free parking, putting gift cards under people's windshield wipers."

---

The O'Neill Family of All-Stars!


---

Martin Richard Dies In Explosion At Boston Marathon


Martin Richard was standing near the finish line to cheer on family friends running the Boston Marathon on Monday, April 15, 2013 when an explosion took his life. He was 8 years old, in the third grade and a typical little boy who loved to ride his bike and play baseball.

Martin's mother, Denise, was hospitalized with "grievous injuries," The Times of London reported. She reportedly underwent surgery late Monday for an injury to her brain.

His 6-year-old sister, a first grader whose name was not made public, reportedly lost her leg in the blast. Martin's brother and father, Bill, were also watching the race, but were reportedly not hurt.

The Richard family hails from the Ashmont section of Dorchester, Mass. Last night, locals gathered at Tavolo Restaurant to remember Martin and his family. "They are beloved by this community. They contribute in many ways. That's why you see this outpouring," said City Councilor at Large Ayanna Pressley. "It's surreal, it's tragic, it's incomprehensible. Everyone here tonight is trying to comfort one another and be prayerful."

The explosions on Monday afternoon claimed the lives of at least two other people. More than 170 were also injured.

---

Martin Richard, Our Forever All-Star!



To Martin's family, you are in our thoughts today and always. We promise that we will continue to spread Martin's message of kindness!


---
Do You Have A Kindness Story To Share?



---