What is Bullying?


Bullying is a form of intimidation or domination toward someone who is perceived as being weaker. It is a way of getting what one wants through coercion or force.

Bullying is also a way to establish perceived superiority over another person. While some may think that bullying consists only of physical domination, there are verbal and emotional forms of bullying as well.

Generally, boys prefer to use physical intimidation tactics in their bullying. They will use physical aggression to force others to do what they want, or to feel in charge of a situation. Girls, however, are more likely to use more subtle methods of bullying such as verbal abuse. Girls are also more likely to emotionally bully by ostracizing their victims or finding ways to harass or belittle others.

Why Ella's Way?
While middle and high-schools have implemented anti-bullying programs, there are limited programs available to address bullying prevention for the young child. Children often become targets of bullying when they are perceived as being different. Those who fall into the roles of bully or bully targets are at higher risk for truancy, mental health challenges, drug or alcohol abuse, violence and even suicide. The effects of bullying are serious and life-changing.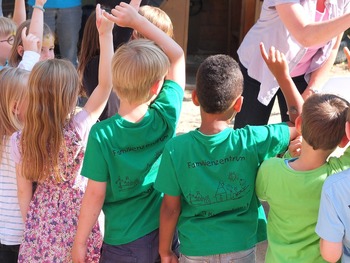 In order to see why early introduction of acceptance is important, one needs to understand the developmental stages of the child. There are key differences between the preschooler and the school age child.
---
---
Stages of Child Development
| | |
| --- | --- |
| PRESCHOOLERS (ages 2.9-6 years) are starting to form friendships with other children. They begin to use language to express their needs and to relate to others. They need a balance of quiet play, active play, group play and individual time. Preschoolers need opportunities for choice, accessible materials, to be involved in appropriate activities, opportunities to increase language and other skills, to learn to interact with peers, and consistent and supportive responses from adults. | SCHOOL AGE CHILDREN (ages 6-14 years) can do many things for themselves, but still need adult supervision. They can express themselves, understand and obey rules, take care of supplies or equipment and belongings. After school, this age group needs time to relax, play, and interact with peers. They begin to form close friendships but choose friends that are more like themselves. They have the ability to use words and actions to hurt others and need adult reminders about appropriate behavior. |

Introducing the concepts of diversity and disability to the preschooler sets the stage for long term acceptance of differences, which is the KEY to bullying prevention!



---

Do You Know Your Bullying Facts?

77% of students have reported being the victim of bullying.

Children with disabilities are 2-3 times more likely to be bullied than their non-disabled peers. The type of bullying varies according to the disability.
160,000 children miss school everyday due to fear of attack or intimidation by other students.
1 out of every 10 students that drops out of school does so because of repeated bullying.
Harassment and bullying have been linked to 75% of school shooting incidents.
Suicide rates among 10-14 year olds have increased by 50% over the last 3 decades.
Nearly 9 out of 10 LGBT students report being verbally harassed at school because of their sexual orientation.
---
---
---
Creating A Home Of Kindness


It's not difficult to teach children to be kind and that kindness has value. "When you do something for others, it makes you feel good. It benefits both the giver and the receiver," says Julie Kaufman of the Random Acts of Kindness Foundation in Denver. Those great feelings can snowball into children wanting to do more kind things."

Here are suggestions for bringing more kindness into your family:

MODEL IT

The best way to teach your children kindness is not by explaining: it's by doing. Whether you do volunteer work, mow an elderly neighbor's lawn or just treat others with dignity and respect, children watch and want to emulate.

REWARD KIND ACTS

Shower your children with attention when they've done kind things. Find creative ways to reinforce and reward the kind behavior such as using a star chart, or schedule a special activity. If you catch your child doing something kind, give them a star on the fridge, and have those build towards a treat such as a special dinner or an outing.


GIVE CHILDREN TASKS TO DO

Studies show that children who do housework have better feelings of responsibility and self-worth years later. And children who feel good about themselves are more respectful to others.

Kids ages 3-5 can help put away their toys and set the table for dinner. Or, even just play quietly while you prepare meals. This is the age to get them started on kid friendly recipes!
Kids ages 6-9 can sweep and dust. At dinnertime, they can set the table and do tasks such as washing vegetables and tearing up lettuce leaves for salad.
Kids ages 10-14 can help mow the law and cut the grass, take out the garbage and with guidance, can even prepare the family dinner.

MAKE FRIENDS

Friendship is the most long lasting way we can show kindness to another person.

Encourage your child to befriend someone at school who is lonely or left out.
Have your children make friendship bracelets and necklaces. Once they're made, encourage them to give away at least two.

ENJOY KINDNESS

Finally, the whole point of being kind is to make the world a more fun, safe and happy place. So when your child does a kind act, when you witness something kind or even when you're the recipient of kindness, show your joy. Keep an open discussion about your feelings around kind acts and let your child feel how wonderful it is to give, and receive, from others.

BE KIND TO YOUR CHILDREN

If you run a kind, respectful household, children learn what it feels like to be treated kindly. That doesn't mean that you never punish a child. But it does help to keep punishments verbal, not physical, and to make sure that all discipline is accompanied by an explanation.

READ ABOUT IT

Slip some kind books into your household reading list. "Ella and the All-Stars" is age-appropriate for the preschooler and will allow the parent or teacher opportunities to discuss the diverse characters and how they display kindness toward each other.

EDUCATE CHILDREN IN HOW TO HELP OTHERS

Teach your child about the many state, national and global organizations that help others. Take them to food pantries, neighborhood kitchens, nursing homes to show them the value of volunteer work.

Participate in a walk or run that raises money for a good cause.
Donate regularly to the local food bank.
Let your child think of ways to help out victims of hurricanes, earthquakes and other disasters.
If you have money to give to charity, ask your children to help you decide who to give to.
Initiate a fundraiser through school to help people in need.

WATCH THE LANGUAGE

Words have enormous power. Work on purging your vocabulary of words such as stupid, shut up, idiot and any racist or biased terms. When your child says such words, right away tell them that those words hurt others and ask them to rephrase what they want to say. No need for a big lecture, just a quick correction.
---
Practice Kindness Everyday

Set the dinner table
Help with the dishes
Feed the cat
Take the dog for a walk
Make the bed
Send a card to a local nursing home
Donate a toy to charity
Check on an elderly neighbor
Say good morning to the letter carrier
Pick up a sibling's toys
Write a letter to a grandparent

It's Never Too Early to Learn Kindness
---

Around The Web


---
Ella's Way Heads To New York City


"My first experience with Ella's Way was with my Pre-K class in the Bronx. The children loved hearing about Ella and her adventures in the sea. They were captivated by the story and the sea creatures who became Ella's friends.

Ella's journey brought her in contact with characters who share many of the characteristics of people my students encounter in their everyday lives; characters with disabilities, anger, generosity, prejudices, guidance, friendship and love. As a Kindergarten teacher, I continue to use Ella's Way and the accompanying program to teach and foster good friendships, community relationships within the classroom and a general appreciation for people in our lives who may be different than ourselves.

While Ella's Way is a attention grabbing story, the Teacher's Classroom Package with lesson plans is the Early Childhood Teacher's dream come true. The kit contains all the necessary lessons for an entire month of a friendship building theme. The lessons are straightforward and appropriately planned for both time constraints and developmental stages of the PK-1 classroom.

The lessons will be a hit in general education, inclusion and self-contained classrooms where anti-bullying and friendship building curriculums are prevalent."

Theresa Nolan Lunetta
K-1 Elementary Educator
PS 340
Bronx, NY 10468

Has Your School Taken The Pledge?


I promise
To always be kind
To follow Ella's Way
To be an All-Star friend

---

---


Ella's Way Inspires An
Ocean Themed School Project


Submitted By:
Hilltop Nursery School
North Reading, MA


---